#1 Website Development Company
We are specializes in developing a dynamic, innovative & sophisticated web sites and applications. Our experienced team develop flexible and scalable solutions that meet your objectives while contributing directly to your bottom line. We have a long list of internet deliverables for a range of organizations, from corporate web development to small Business websites and applications. Our extensive customer support facilities allow us to keep in touch with our customers 24/7. Design your website today from #1 web designing compnay in India.
Stunning Templates
Mobile Friendly

24*7 Support
Value for Money
FREE CONSULTATION
Why Choose DV Group for Web Development?
DV Group is a well-known web app development firm that is known for meeting modern business needs and delivering best-in-class solutions at a competitive price all over the world. Here are some of the reasons why we are the finest choice for developing websites and apps:
Customer Satisfaction
We leverage the most up-to-date frameworks and technologies to provide you with user-friendly, scalable, secure, and innovative business solutions.


Agile Procedure
We use the Agile methodology and hold scrum events on a regular basis to improve our processes and procedures and give the best results.


Dedicated Teams
We have a team of web developers with experience developing high-end online solutions using a variety of technologies.


Integrity & Transparency
We value your ideas and vision, give you with every project detail on a frequent basis, and consider your valuable input as needed.


Flexible Engagement Models:
Rather than operating within unwelcomed tight and rigorous limits, we allow our clients to choose from a variety of engagement and employment models.


Competitive Pricing
To ensure the lowest pricing in our segment, we offer an optimal blend of cost-effective rates and exceptional quality.


Our Web Development Process
WE MISS NOTHING TO CREATE REMARKABLE EXPERIENCE


1. Gather requirement: To begin, we carefully and thoroughly listen to our clients' needs and ensure that their questions are answered in the most efficient and effective manner possible so that we can move forward in the proper path.

2. Planning: We devise a tried-and-true strategy for streamlining and organising your website development process. We recognise the value of meeting objectives while also providing a positive user experience.

3. Design and Develop: Following the creation of a platform, we send it to the client for assessment and comments. We'll constantly looking for new ways to improve our work until you're completely happy. The design will then be coded and developed once it has been accepted.

4. Testing: We test the website on a variety of devices and utilise powerful techniques to ensure that it is responsive, user-friendly, and error-free according to W3C standards. If we discover a problem, we ensure that the appropriate changes are made in order to produce high-quality projects.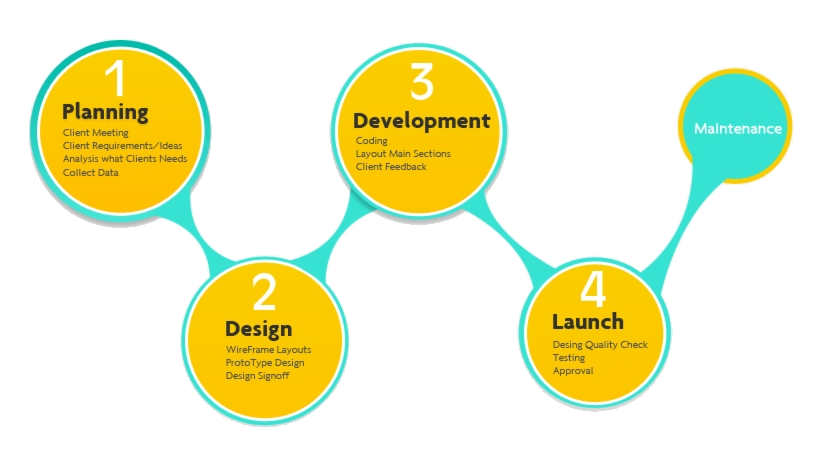 5.
Launching:
We debut your website on the market after ensuring that it is error-free by deploying it to your server, which will be accessible to you, your team, and users. If you have any performance concerns, we can also provide maintenance and assistance.